Risky in pink
by Tom Sullivan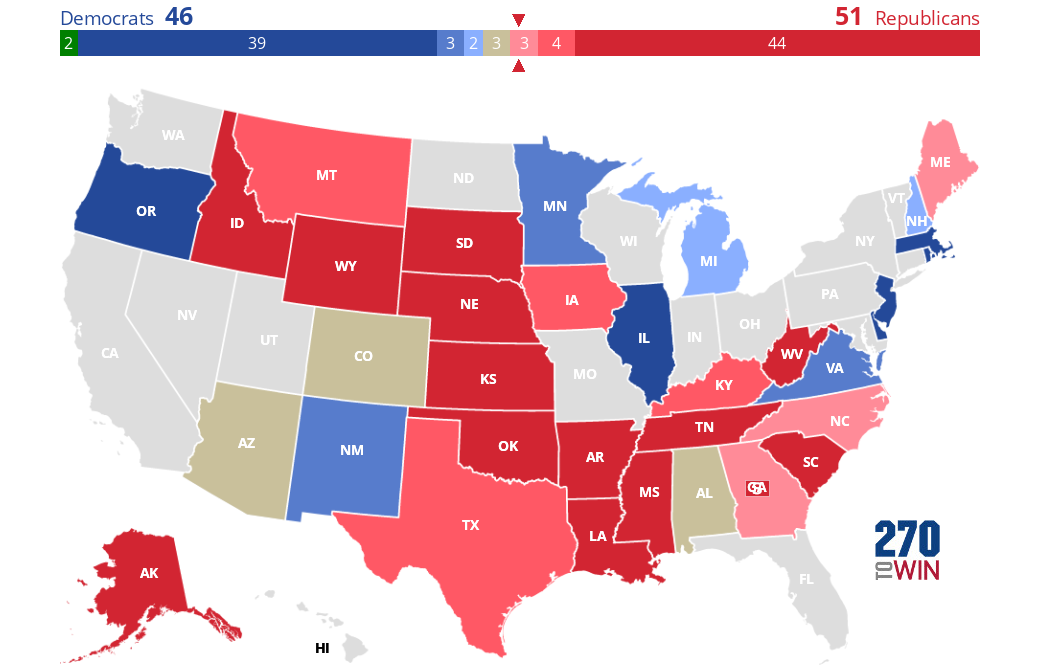 2020 Senate Election Interactive Map from 270 to Win.
It's no April Fools' Day joke. Even if Democrats retake the White House in 2020, the Super Bowl hype over the presidential contest is so much Maroon 5 halftime show without control of the Senate. Ask Barack Obama and Merrick Garland. Should House Democrats pass articles of impeachment, there is no guarantee Kentucky's Mitch McConnell would even allow a Senate trial.

So long as he rules there, McConnell has as much control of the country's fate as Donald Trump.

Politico spells it out:
McConnell (R-Ky.), faced with his own reelection and defending a tough GOP map in 2020, has no incentive to work with House Democrats on their domestic agenda.

A Senate blockade will deny Democrats tangible wins to tout on the campaign trail, while keeping vulnerable Senate GOP incumbents from having to take difficult votes. Republicans are also intent on shielding President Donald Trump from potentially awkward veto fights on legislation that polls well.

As Sen. John Cornyn (R-Texas) put it: "We are the firewall."
If Democrats retake the White House in 2020 with McConnell still in place, that becomes a stone wall.

Democrats need to gain at least three Senate seats and the presidency to take control of the Senate. The upside for Democrats is Republicans need to defend 22 of the 34 Senate seats in play in 2020. But only two Republican incumbents, Maine's Susan Collins and Colorado's Cory Gardner, are not running in solidly red states. Gardner, Arizona's Martha McSally, and Alabama's first-term Democrat, Doug Jones, are ranked toss-ups. Georgia's David Perdue and North Carolina's Thom Tillis are also in Larry Sabato's lean-R column with Joni Ernst of Iowa.
"If all they do under McConnell's leadership is block everything, in a presidential turnout year, I think they really risk losing some of their seats like Maine, like Colorado, like Arizona," said Rep. Gerry Connolly (D-Va.). "If they want to keep control of the U.S. Senate, they better deliver something."
So far, all Trump's base really cares about is owning the libs. Should he succeed in killing their health care coverage, all some bets are off.