The other Republican Democrats must defeat
by Tom Sullivan

Sen. Mitch McConnell image by DonkeyHotey via Flickr (CC BY 2.0)
Ten Democrats tried Wednesday night in Miami to pitch remedies for the country's ills. But looming over the Democratic presidential debate stage in Miami Wednesday night: Sen. Majority Leader Mitch McConnell. Even if a Democrats wins in 2020, there remains a strong chance Republicans hold the U.S. Senate. McConnell's take-no-prisoners style and willingness to stymie every Democratic effort presents a structural challenge for any incoming Democrat no executive orders can solve. Amy Klobuchar has 137 she plans to issue in her first 100 days in office. Then what?

McConnell's antipathy for working with Democrats dates at least from the beginning of the Obama administration. "The single most important thing we want to achieve is for President Obama to be a one-term president," McConnell said in 2010. He may not have been at the infamous inauguration-night dinner in 2009 when Republican leaders vowed to fight Democrats "on every single bill and challenge them on every single campaign." But Joe Biden quotes seven GOP senators during the transition telling him McConnell "demanded unified resistance" to the incoming Obama administration.

That resistance lasted until it was the outgoing Obama administration trying to fill a Supreme Court seat. Against that, all centrist Democrats' promises they can work across the aisle to get things done sounds vacuous and ill-informed.

Daily Beast's Sam Stein observed that at one point in the evening, the Senate Majority Leader was trending in Google searches:
Asked what plans they had for countering McConnell, no candidate Wednesday night had a plausible answer. Even Sen. Elizabeth Warren who has a plan for everything. Asked by NBC's Chuck Todd how she would cope with McConnell, Warren at least admitted she might have to:
WARREN: Well, here's how I see this happening. Number one, sure, I want to see us get a Democratic majority in the Senate. But short of a Democratic majority in the Senate, you better understand the fight still goes on. It starts in the White House, and it means that everybody we energize in 2020 stays on the frontlines come January 2021. We have to push from the outside, have leadership from the inside, and make this Congress reflect the will of the people.
Big on fight. Thin on details. Outside? Outside the White House, Democrats need more votes in the Senate.

For all the candidates' plans and earnestness, the question Democratic voters might need to consider as much as policies and electability is whether their candidate will have coattails enough to win additional Senate seats. Enough to pass legislation. Enough to appoint Supreme Court judges. Ed Kilgore believes Republican obstruction in the Senate "could be more important than anything else the winner encounters."

Ezra Klein writes at Vox:
Making matters worse for Democrats, this may be their last chance to retake the Senate for the foreseeable future. The 2022 election is a tougher map for them, and it'll be a midterm year. If they win the White House in 2020, they're likely to lose Senate seats in 2022 — and that's even truer if their agenda has been stymied by a Republican Senate and the country deems their presidency a failure. It's 2020 or bust.

In a more sensible system, the presidential candidates would be quizzed on how they would lead their party to down-ballot victory if nominated. They'd release detailed plans for organizing in purple states and crafting a message designed to carry coattails. They'd be discussing statehood for Puerto Rico and DC — which is both the right thing to do on the merits and would strengthen Democrats' Senate competitiveness in the future. It'd be all hands on deck to take back the Senate.
So far, that does not appear the case. The reality is rank-and-file voters, especially on the left, treat winning the presidency like the big enchilada. Republicans are more strategic. They are after judges, state legislatures, control over redistricting. On that last one, the Supreme Court has a major rulings due this morning at 10 a.m. EDT.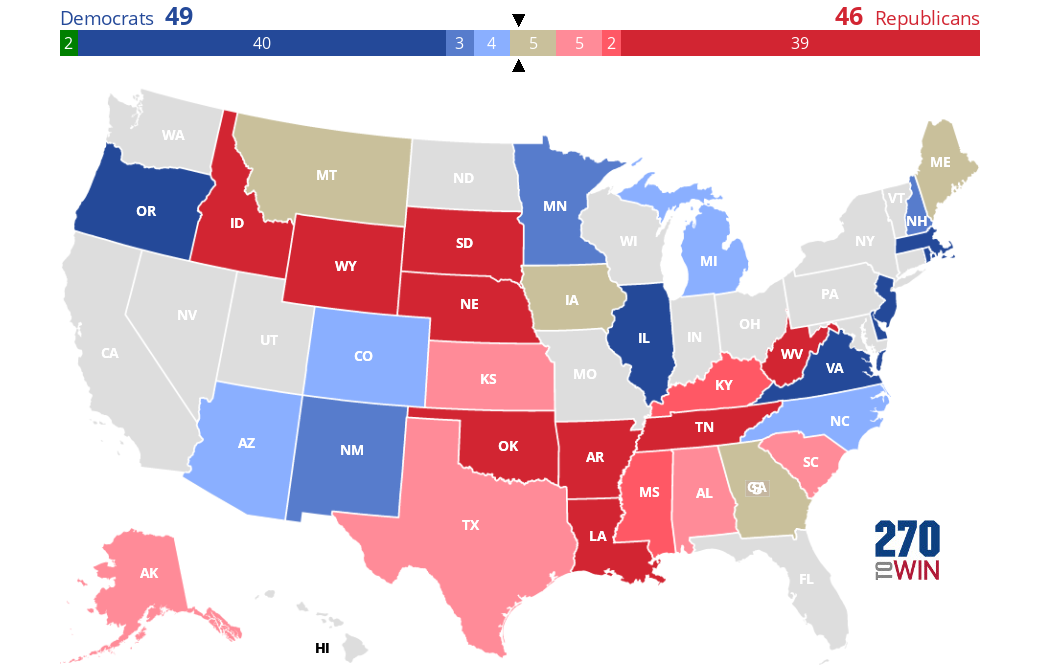 Click the map to create your own at

270toWin.com



It was clear from night one of the Democratic debates, several Democrats' efforts might be better spent contesting Senate seats in their home states. Democrats might want to be sure McConnell has as difficult a reelection in Kentucky as possible. For that, they'll need to find a credible candidate to support lavishly and nominate a presidential ticket with coattails.